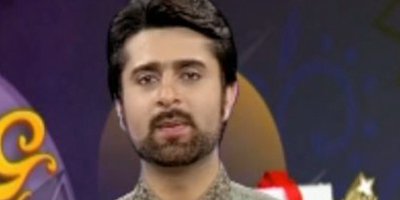 JournalismPakistan.com February 19, 2013
ISLAMABAD: Ansar Abbasi, Editor Investigations at The News has served legal notice on Ameer Abbas (picture), an anchor with Waqt News Television for a "defamatory" statement made by a guest during a program aired by the channel.
Ansar is seeking Rs50 million in damages. In the program 'News Special', aired on January 1, 2013, the guest Arshad Ansari, President of the Lahore Press Club, accused Abbasi of being corrupt.
"I think he takes bribes, and goes and sets up factories in Dubai. Is this not bribe? I say there is no person more corrupt than Ansar Abbasi. He should tell how does he go and set up factories in Dubai," the legal notice quotes Arshad as having said on the program.
The notice says the statement is absolutely false and was made with malafide intention and that Ameer being the program host did not object to the allegations.
Ansar told JournalismPakistan.com legal proceedings would be formally initiated in a couple of days.