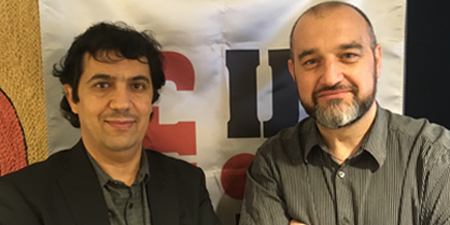 JournalismPakistan.com March 23, 2017


BRUSSELS - Ahmed Al Jaber, former deputy editor-in-chief of Yemen's state-owned SABA news agency, has received a French visa as a refugee thanks to the international solidarity and the efforts of the International Federation of Journalists (IFJ)'s French affiliates.
Ahmed was forced to flee Yemen in October 2015 after being threatened with an arrest warrant by the Houthi rebels, who took control of the capital Sana'a in September 2014. Now he is waiting for his wife and four children to join him in France and hopefully, to return to his country as a journalist once the war is over.
In the IFJ headquarters in Brussels, Ahmed gently tells his story, half in French, half in Arabic. He still remembers the day the Houthis stormed the building of the SABA news agency in Sana'a, where he was working as the deputy editor-in-chief of the news department employing more than 90 journalists and media workers.
He said that the Houthis didn't use any physical violence against SABA workers but that they were forced to publish an article saying that the police were friends with the rebels and that they were working together. Then, the workers were asked to leave the building. That was the last day Ahmed worked as a journalist after 17 years as a news professional.
Ahmed is now living in Paris, where there is "plenty of energy", and survives thanks to the assistance provided by the French state. However, he can't work as a journalist in order not to put at risk his family who remain hidden in Yemen until the French authorities allow them to join him in Europe.
The UN estimate that around 10,000 civilians have been killed in a poorly-reported war since the end of 2014 following clashes between the Houthis, the Saudi-led coalition, and the Al-Qaida group. The coalition has launched persistent air strikes against the strategic positions of the rebels, often affecting civilians' lives. The Yemeni Syndicate of Journalists (YJS), an IFJ affiliate of which Ahmed was a member, reported that 20 journalists have also died.
The YJS also reported more than 100 press freedom violations in Yemen in 2016, including 42 cases of journalists' abduction, detention, prosecution, and disappearance; 17 dismissals; 23 cases of assault on journalists and media houses; 48 cases of blocking websites; 16 cases of attempted murder and 12 cases of torture. In addition, journalists are also accused by all warring parties of affiliating with rival parties and serving their interest and, as a result, they face the threats of being killed and tortured on a daily basis.
Ahmed is one of the thousands of Yemeni journalists who were confronted with this alarming new situation when the Houthis took control of public institutions and media houses in 2014: some preferred to show acceptance or support to the Houthis to avoid being harmed, some others changed profession, some fled to neighboring countries - Saudi Arabia, Egypt, Jordan or Turkey - and those less fortunate died due to the war.
Ahmed and his family decided to leave Sana'a and kept moving regularly, changing their location several times to keep hidden. Their house and neighborhood were destroyed following a Saudi air strike and all this time they have managed to survive thanks to the money lent by some friends. "Some of my colleagues are now severely in debt, just to survive," he claims.
Everything changed in April 2015, when an arrest warrant against him was published by the Houthis accusing him of having links with their enemy – Saudi Arabia. Other colleagues - as well as Yemeni academics and intellectuals - also faced the same situation. He was now targeted by the facto government.
After leaving Yemen six months later, he fled to Saudi Arabia, Jordan, and Tunisia before finally heading to France in June 2016 to take part in the IFJ Congress in Angers. There, he met Patrick Kamenka, from the French SNJ-CGT trade union, who was committed to helping him stay in the country. He also put Ahmed in contact with "La Maison des Journalistes", where he was welcomed by the director Mrs. Darling and the staff.
Ahmed had also the opportunity to meet the French Foreign Minister's officials together with the French unions. The issue of Yemeni journalists should be on the agenda of the UN Human Rights Council's session in Geneva this month.
"I don't know how to thank Patrick and the French trade union. They have been more than perfect with me. I hope I will one day be able to repay them for what they have done for me."
Even if he feels very grateful, the decision to apply for a refugee visa was very hard for him. "In the Yemeni culture, such a thing is frowned upon. People prefer to die instead of being immigrants," he says.
But he is lucky to have left a country where journalists are suffering from psychological problems due to the war, some have been reported trying to commit suicide or die due to the lack of medicine, he says. "I know a former newspaper's general director who even had a printing house but can't now even afford an eye operation."
In addition, some of the families of the killed and kidnapped journalists contact Ahmed desperately seeking help. Around 150 Yemeni journalists staying in Saudi Arabia are also facing trouble as the government wants to deport them to Aden, a Yemeni area captured from the Houthis in 2015 where independent newspapers have started flourishing. "Colleagues in Saudi Arabia have had no right of residence, health care, education and receive nothing to pay for their stay. If they are forced to leave now, they will never be able to return to Saudi Arabia."
Ahmed himself is not allowed to go back to Yemen. His priority now is his family. "The most important thing for me is meeting my children again," he says, before wishing for peace for his country following such a bloody conflict. A country he desperately hopes to be able to return to one day. - IFJ media release/Image: IFJ/NS