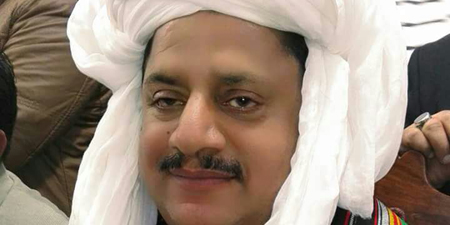 JournalismPakistan.com March 21, 2017


QUETTA – Afzal Butt (pictured) has been elected president of Pakistan Federal Union of Journalists in elections held in Quetta over the weekend.
According to results announced by chairman election committee, Butt polled 182 votes in defeating his opponent Hussain Kashif, who had 61.
Ayub Jan Sirhindi of the Karachi Union of Journalists, securing 143 votes, became the general secretary, beating Shams ul Islam Naz, (102).
The vice-presidents elected were Saleem Shahid (190), Bakht Zada Yousafzai (175), Khalid Khokhar (171), and Amin Abbasi (162).
On the other hand, Waseem Farooq Shahid, who got 152 votes, was elected the finance secretary. His opposite number Naeem Hanif had 77.
The successful assistant secretaries were Abdul Khaliq (176), Chaudhry Yasir Butt (171), Lala Asad Pathan (170), and Raja Haroon (166) and Nawaz Tahir (76).
The following were successful for the 25 seats on the FEC: Rana Shafiq Khan Pisrori (157), Sajjad Syed (160), Afzal Baloch (195), Ashraf Khan (163), Banaras Khan (173), Ibrahim Khan (172), Ihsanul Haq (176), Javed Asghar (148), Javed Siddiqui (143), Lala Rehman Samoon (154), Liaquat Ali Khan (144), Qurban Satti (158), Mian Abid Raza (157), Nasir Malik (194), Nasir Zaidi (192), Nayar Ali (163), Rana Naveed (160), Rashid Aziz Hashmi (146), Sehrish Khokhar (161), Sardar Shafiq Ahmed (160), Shahzada Zulfiqar (176), Shakeel Ahmed (153), Siddique Chaudhary (158), Syed Bukhar Shah (167), and Tariq Mehmood (161).