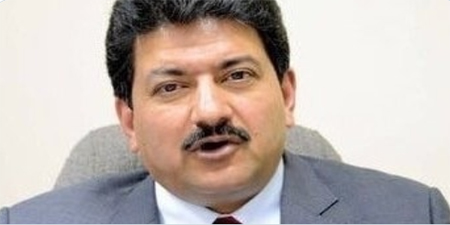 JournalismPakistan.com October 15, 2021


WASHINGTON—Washington Post has welcomed Pakistani journalist Hamid Mir joining as a contributor to its Global Opinions section to expand the paper's coverage of the South Asian region.
According to a post on the official website, Mir, whose career covering Pakistan and international affairs spans more than three decades, will write about Pakistani politics and geopolitical issues in the region.
"Hamid is a fearless journalist who has never wavered in providing honest reporting about the events in his country, despite pressure, including threats on his life, from political and terrorist groups," stated Elias Lopez, senior Global Opinions editor.
"We are proud to welcome him to our section as part of our mission to offer an open forum for global debate and look forward to presenting his perspective on the most pressing issues facing Pakistan and its neighbors."
Beyond his work in Pakistan, Mir has covered several conflicts in different countries, including Afghanistan, Iraq, Syria, and Lebanon. He has written for various Pakistani publications and hosted a talk show on Geo TV, a national news channel. However, he is currently not allowed to host his TV show.
He was also recognized by Reporters Without Borders as an information hero and has received numerous national awards.