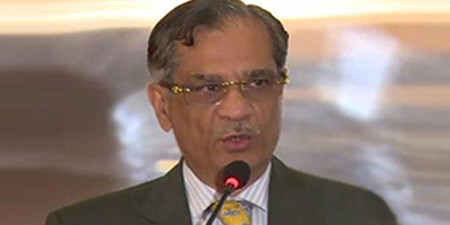 JournalismPakistan.com January 04, 2019


ISLAMABAD – The Supreme Court of Pakistan on Thursday gave one last chance to media houses to pay off all outstanding staff salaries and dues to employees.
Chief Justice Mian Saqib Nisar was hearing a case relating to non-payment of dues to workers by news organizations, including BOL News.
He told the President of BOL News Sami Ibrahim to deposit post-dated cheques in the coming week along with an affidavit. He also ordered that employees who had quit the organization be paid their salaries within two weeks.
The chief justice also ordered that employees driving company cars to return them to the respective organizations and receive their cheques in return.
Pervez Shaukat, President of his faction of Pakistan Federal Union of Journalists (PFUJ) told the court he had handed a list of 38 BOL employees to the channel's CEO Shoaib Shaikh at the court's Lahore registry earlier.
He pointed out that only five cheques of those employees were presented in court but even those five were not fully paid. He cited the example of anchor Aaliya Shah who had Rs 1.2 million outstanding but got paid only 0.6 million.
Sami Ibrahim appeared in court on behalf of Shoaib Shaikh. He sought time until February 15, saying that the group would sell off 150 of its cars and clear all outstanding salaries.
Anchors Dr. Maria Zulfiqar and Saima Shabbir also appeared in court.
Maria said that she had the company's car worth Rs1.5 million and pleaded the vehicle is given to her for good. But the chief justice dismissed her request and ordered that she bring the car to the court and hand it back to the company.
Meanwhile, Sami told outstanding salaries to regular employees would be cleared within six weeks.
Asma Chaudhry, who previously worked for Neo News, was handed a cheque for Rs2 million by the company after she handed over the keys of the organization's car.