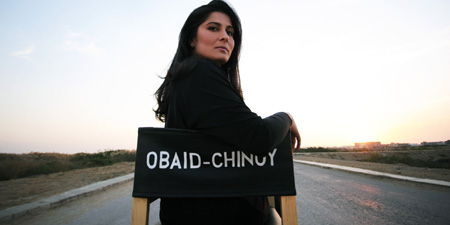 JournalismPakistan.com June 01, 2017


Pakistani journalist and filmmaker Sharmeen Obaid-Chinoy and Karam al-Masri, a Syrian photojournalist and videographer have won the 2017 Knight International Journalism Award.
The International Center for Journalists (ICFJ) said the award recognizes stellar reporting that has made a major impact.
Chinoy's work prompted legislative changes in Pakistan.
She is the winner of two Oscars – documentaries that tackle abuse of women and children. Her "Frontline" documentary, "Children of the Taliban," told of Pakistani boys who were groomed in Taliban schools to carry out attacks against civilians.
"Saving Face" focuses on acid attacks on women while "A Girl in the River" explores an attempted "honor killing" of a young woman who married someone her family did not choose.
The film drew attention to a loophole which allowed these murders to go unpunished. The Parliament then passed a law criminalizing honor killings.
Karam al-Masri, persisted in covering the siege of Aleppo during a near-total blackout of news from the city.
"At great personal risk, Obaid-Chinoy and al-Masri faced terrorism head on, getting behind the scenes to chronicle untold abuses," said ICFJ President Joyce Barnathan.
The award is supported by John S. and James L. Knight Foundation, which funds ICFJ's Knight International Journalism Fellowships.
"These reporters exemplify journalism excellence, telling stories that advance change and revealing truths that would not be uncovered, but for their efforts," said Jennifer Preston, Knight Foundation vice president for journalism.
Karam al-Masri captured heartbreaking images of his country despite tremendous hardship and abuse. When the Syrian war began in 2011, al-Masri was a law student in Aleppo. He began taking photos on his phone of anti-regime demonstrations. Soon, he bought a professional camera to better capture the conflict.
He is currently based in France, where he moved this year to seek asylum.
The winners will be honored on November 9 at ICFJ's Awards Dinner in Washington, DC.