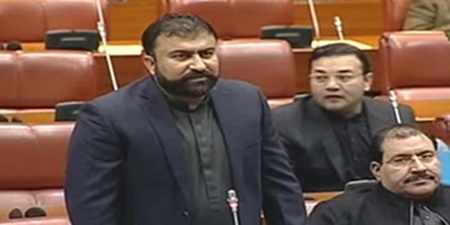 JournalismPakistan.com July 10, 2021


ISLAMABAD—Senator Sarfraz Bugti (pictured) has told journalist Talat Hussain that he was not worried about the government's decision to start talks with the "angry" Baloch leaders.
The senator replied to a tweet by Talat in which he maintained that Bugti was worried about the government's decision to talk with angry Baloch leaders. "He (Bugti) knows that this would create difficulties for him. It is just the start. A lot is going to happen in the days to come."
The senator wasted no time reminding Talat that there is a difference between running a YouTube channel and the state. "Talat sb, there is a huge difference between running a youtube channel and the state."
Like several other journalists, Talat mainly relies on his YouTube channel for his views against the PTI government.
On Friday, Bugti met with Prime Minister Imran Khan, who has appointed JWP Chief Nawabzada Shahzain Bugti as his special assistant on reconciliation in Balochistan.
The senator added: "Those will be worried about talks with angry Baloch leaders who do politics for their own interest, and not for the state's interest. We have given sacrifices which were not even due to us."
Not to be left behind, Matiullah Jan, who also has a YouTube channel, commented sarcastically that the government was being run by somebody else.