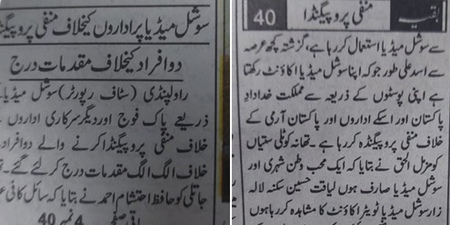 JournalismPakistan.com September 14, 2020


ISLAMABAD—Journalist Asad Ali Toor on Monday said Rawalpindi Police have registered a case against him for his alleged anti-Pakistan and anti-military tweets.
In a tweet, Toor said: "IMPORTANT ANNOUNCEMENT: Without listening me reportedly on the complaint of a proxy character Hafiz Ehtisham Rawalpindi police registered FIR against me allegedly on being "Anti #Pakistan and propagating against #PakistanArmy on social media." Such fascist tactics can't silent me."
With his tweet, he shared the images of news about the case registration, which appeared in a local Urdu newspaper.
After Absar Alam and Bilal Farooqi, he is the third journalist facing a police case over his tweets.
Condemnations followed soon after Toor made public the registration of the case.
Hasan Zaidi termed it a "Shameful state." Amber Rahim Shamsi thought "The crackdown continues." Dawn's Khurram Hussain termed it a "new way to pressure journalists into silence. It is an attack of press freedoms."
Murtaza Solangi said such tactics would not be able to silence journalists. "The harassment by @ImranKhanPTI regime against journalists continues. You shall fail in silencing us."