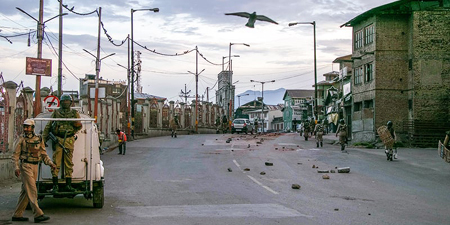 JournalismPakistan.com August 20, 2019


KARACHI — Pakistan Federal Union of Journalists (PFUJ) has strongly condemned restrictions on media and complete lockdown in Indian-held Jammu and Kashmir.
President of PFUJ Afzal Butt and Secretary-General Ayub Jan Sarhindi in a joint statement expressed grave concern over the deteriorating media freedom and ban on freedom of speech and expression in Occupied Kashmir.
PFUJ criticized Indian authorities for imposing a communications and information blackout on Kashmir for over two weeks, stopping India's usually claimed vibrant media from being able to report what is happening in the disputed region after the government revoked its special status by removing article 370 of the Indian constitution.
Both the leaders of PFUJ said it's a clear violation of the Indian constitution, fundamental human rights, and international norms, which were always claimed by all the Indian leadership in the past.
The union leaders demanded that even the Indian media is not being allowed to enter occupied Kashmir, which is serious and unwanted, as the free flow of information is the need of the time.
They demanded of the Indian government to immediately provide free access to media, including foreign journalists and correspondents in Occupied Kashmir for coverage.
They called upon the international bodies, United Nations and media organizations to play their due role in forcing India to lift the ban on media activities in Indian-held Kashmir and restore fundamental human rights as per international law.
PFUJ announced to observe black day on August 22 to show solidarity with the Kashmiri people and media. Protest rallies and meetings will be organized in this regard.
Photo: AFP