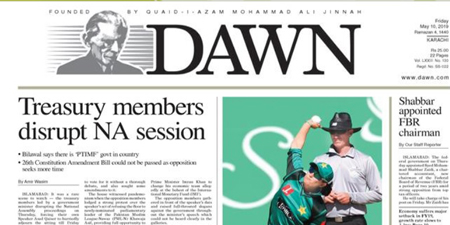 JournalismPakistan.com May 10, 2019


ISLAMABAD - The Pakistan Federal Union of Journalists (PFUJ) has strongly condemned imposing a ban on advertisements to the Dawn Media Group, calling it a move against freedom of expression.
PFUJ President Afzal Butt and Secretary-General Ayub Jan Sarhandi believe that such a step is against all democratic norms and a violation of the Article 19 of the Constitution which guarantees freedom of expression and press.
In a joint statement, the two PFUJ office-bearers said the working journalists of the country are fully aware of their limitations and restrictions as given in the Constitution. However, it has been observed that the government is penalizing the Dawn Media Group only because some quarters are not happy over the independent views of the newspaper and its TV channel over the present state of governance, and economy.
The two office-bearers reminded that the elected government should avoid adopting tactics of military dictators to use advertisements as a tool to silence free voices.
It has also come to the notice of the PFUJ that some members of the government's media team interfere in the internal policy matters of the newspaper by suggesting display of various news reports and even suggesting headlines through the officials of the Ministry of Information and Broadcasting, which is highly regrettable.
The PFUJ warns the government that the journalists who worked under similar conditions during the military regimes in the country will not tolerate such curbs on media, and if it continues to use the same tactics to curb media freedom, then the journalists will have no option but to use their democratic right of protest at different forums.
Related: Government stops adverts to Dawn