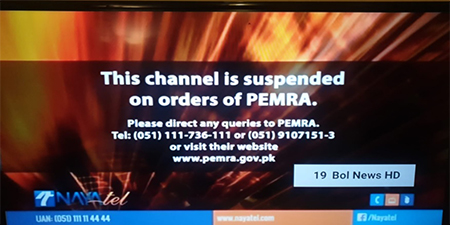 JournalismPakistan.com September 05, 2022


ISLAMABAD—Electronic media regulator PEMRA has suspended the transmission of BOL News and BOL Entertainment following a meeting in Islamabad Monday.
A PEMRA media release said that it had suspended the licenses of Labaik Private Limited in 2017 after the interior ministry did not grant security clearance to the channel.
However, BOL challenged the PEMRA order in the Sindh High Court, which remained pending, and the channel remained on the air.
PEMRA said the court then wrapped up the case in 2021. During the hearing, its lawyer pointed out that since the interior ministry had not given clearance to Labaik Pvt. Ltd., the regulator would not allow both channels to continue their transmission.
The release said the meeting looked at all the relevant court orders and the interior ministry's notifications before banning BOL News and BOL Entertainment.
The ban on BOL comes days after a 24-day blackout of ARY News ended. PEMRA punished the channel for airing a controversial comment by PTI leader Shahbaz Gill.
Meanwhile, PTI Chairman Imran Khan said on Twitter that the government had taken media censorship to fascistic levels.
"Imported govt has taken media & journalists' censorship & persecution to fascistic levels. Now Bol has been suspended simply because it gave us coverage. Message to all media houses is to blackout the largest & most popular national pol party from mainstream media. Unacceptable."