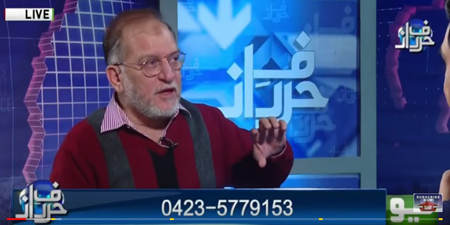 JournalismPakistan.com January 01, 2019


ISLAMABAD – Electronic media regulator PEMRA has slapped a 30-day ban on Neo TV program Harf-e-Raaz.
The ban follows show-cause notices issued to Neo TV on December 7, 2018, for violating the orders of the Supreme Court and PEMRA laws as well as the code of conduct for electronic media in their program aired on December 4, 2018.
In that show hosted by Jamil Farooqi and Orya Maqbool Jan (pictured), they had a spokesperson of the banned Tehreek-i-Taliban on a live call and sought his views on the national and foreign policy of the government vis-à-vis national security issues.
The channel was served another show-cause notice on December 12 for insulting remarks made by Jan against the Pashtuns in his program.
PEMRA warned Neo that in case of non-compliance, strict legal action would be initiated under Sections 29 & 30 of the PEMRA Ordinance 2002 as amended by PEMRA (Amendment) Act 2007 and 2008 which could result in suspension or revocation of license.