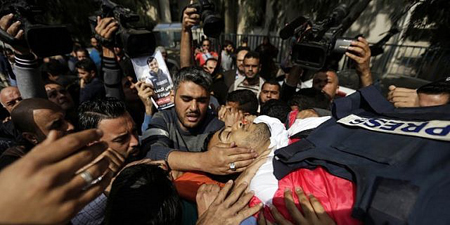 JournalismPakistan.com April 08, 2018


GAZA - A Palestinian journalist died on Saturday after being wounded by Israeli fire on Friday while covering deadly protests along the Israel-Gaza border, health officials said.
Yaser Murtaja, 30, a cameraman for Palestinian Ain Media, was the 29th Palestinian killed in the week-long protests.
Photos showed Murtaja lying wounded on a stretcher wearing a navy-blue protective vest marked 'PRESS' in large black capital letters. Health officials said a live bullet had penetrated the side of his abdomen and he succumbed to his wounds in hospital.
A statement from the Israeli military said: "The IDF (Israel Defence Forces) does not intentionally target journalists. The circumstances in which journalists were allegedly hit by IDF fire are not familiar to the IDF and are being looked into."
The daily protests, dubbed "The Great March of Return," began on March 30 along the Israel-Gaza frontier, reviving a longstanding demand for the right of return of Palestinian refugees to towns and villages from which their families fled, or were driven out when the state of Israel was created.
Eight Palestinians were wounded there on Saturday, Gaza health officials said, and an Israeli military spokeswoman said she was checking the report.
Israel has stationed sharpshooters to stop attempts by Palestinians to breach the border or sabotage the security fence.
Freelance photographer Ashraf Abu Amra told Reuters he was next to Murtaja, whom he said was wearing a helmet and protective vest. Abu Amra said they were both clearly marked as journalists.
"We were filming as youths torched tyres. We were about 250 meters from the fence," said Abu Amra. "Israeli forces opened fire and injuries began. Yaser and I ran to film when suddenly Yaser fell to the ground.
"I screamed to him 'Yaser are you alright?'. He didn't respond, and there was blood on the ground underneath him. I knew it was a bad injury and people carried him away," said Abu Amra.
Video footage showed Murtaja being carried to an ambulance with crowds around and black smoke rising from where protesters had set tyres alight, east of Khan Younis, in the southern Gaza Strip.
Reporters Without Borders (RSF) Secretary-General Christophe Deloire condemned what the group described as Israel's disproportionate response and called for an independent investigation into the incident.
The Foreign Press Association echoed the call and urged the military to show restraint.
Murtaja was married with a two-year-old son. Hundreds of mourners, among them many journalists, attended his funeral on Saturday.
His body was covered with a Palestinian flag and his press jacket laid beside him on the stretcher as it was carried through the streets of Gaza City to his home for the last farewell.
"I made him breakfast, he ate quickly, he was in a hurry to go to work," said Murtaja's mother, Yusra, recounting the morning of the protest.
"I thought he would recover from his injury, I didn't expect his death, but God has chosen him as a martyr, thank God," she said, sitting on the ground as mourners came to the house to pay their respects.
Israel Radio, citing an unnamed source in Gaza, said Murtaja had been operating a camera drone on Friday.
"I don't know who he was, cameraman or no cameraman, anyone operating drones above IDF soldiers must know he is putting himself at risk," Israeli Defence Minister Avigdor Lieberman told reporters. "We won't take any risks."
Abu Amra and two other Palestinian journalists said Murtaja was not operating a camera drone when shot. - Reuters