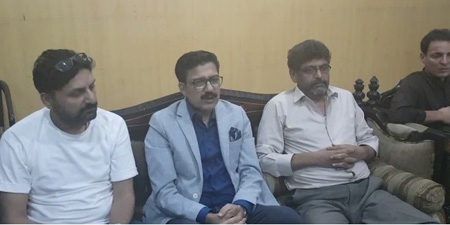 JournalismPakistan.com September 29, 2019


ISLAMABAD — The National Press Club has condemned an attempt on the life of 24 News deputy bureau chief Irfan Malik and called for the arrest of the assailants.
Club President Shakeel Qarar (pictured, center) chaired a meeting on Sunday that set a 24-hour deadline for the police to capture the perpetrators.
The journalists warned of a protest outside the Inspector General's office if this was not done.
Around eight to nine assailants attacked Malik in Media Town where he is a finance secretary.
Farooq Faisal, Chairman of Journalists' Panel, and Shaharyar Khan, a former president of the press club, and representatives of various media bodies attended the meeting.
CCTV footage showed the assailants barging into the Media Town office attacking Irfan, kicking and punching him for several minutes.
The Annual General Meeting of Media Town was scheduled for Sunday and took place as planned.
Malik has filed an application seeking registration of FIR at the Loi Bhir Police Station.