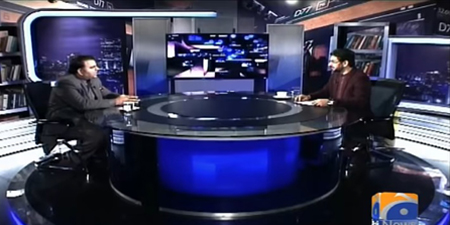 JournalismPakistan.com November 25, 2018


ISLAMABAD – In a television interview, a mix of sarcasm and seriousness, the Minister of Information Fawad Chaudhry called on the media houses to review their business models as banking only on government advertising was not the answer.
He appeared in the Geo News program Jirga on Saturday in which interviewer Saleem Safi appeared bent on pinning down his guest.
However, the minister answered all questions calmly, and at one point told his host "you are a permanent nuisance", and suggested that Safi rename himself as the Ministry of Disinformation.
Responding to a question that the government had left media workers jobless, Chaudhry said: "We are saving people's livelihood. The federal government released half a billion rupees to the news organizations because we want to provide short-term assistance to the media so that retrenchments stop."
But Safi thought the government had done no favors by releasing half a billion rupees, as it owed that money to the media houses.
"Yes, but the only thing was this money remained stuck for the last 15 years. We could have sat on it for another 15 years," said Chaudhry, urging the media to have a strategic rethink.
He reiterated that the existing business models of the media houses would no longer work. "A person came to me saying his business was dependent on 65 percent government ads. Now how can this go on," the minister asked.
Chaudhry said the Ministry of Information could not be abolished as it had a massive infrastructure.
When Safi told the minister that some people suggest that the ministry should be renamed as Ministry of Linguistics and Fazooliat (nonsense), the minister responded: "Yes, and make you sit at the helm."