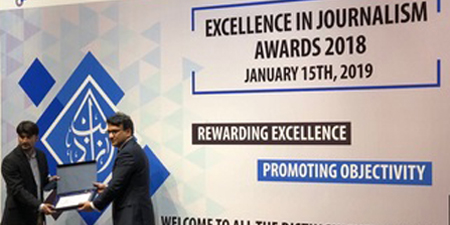 JournalismPakistan.com January 15, 2019


KARACHI – The Center for Excellence in Journalism (CEJ) on Tuesday honored journalists from across Pakistan for excellence in rights-based reporting.
The center had the collaboration of Center for Communications Programs Pakistan, Palladium Pakistan and the Sukh Initiative.
Several journalists won awards, given away at the Institute of Business Administration's city campus.
Journalists submitted their news stories published between July 1, 2017, and September 30, 2018.
This independent annual award aims to recognize and promote rights-based reporting in Pakistan, especially on issues that affect the most ignored and marginalized factions of society.
Print and broadcast journalists who developed extraordinary stories, that brought to the fore important issues afflicting the society, won the awards.
An independent jury, comprising veteran journalists, assessed the shortlisted submissions following a general criterion to select the winners.
The panel of judges comprised Ashraf Khan and Owais Tohid, Farah Zia, Ayaz Khan, and Zaibunissa Burki.
The three categories of stories were child rights, health rights, and women rights.
In his welcome address, Kamal Siddiqi, Director, CEJ said that the idea behind the award was to encourage good journalism and highlight distinction in reporting on social issues. "We all know that we can do much better and this is one way to recognize people doing good journalism," he said. "These are challenging times, and good journalism is under threat."
Veteran journalist Ghazi Salahuddin agreed with Siddiqi that times were indeed challenging for the media. "Media shouldn't be alone in its fight for freedom, rather the society should also support it, as the media is the voice that protects the freedom of the society."
Chief guest Fawad Chaudhry, Minister for Information and Broadcasting, said he was honored to be at the event and termed the award a brilliant initiative.
Commenting on how critical, such initiatives are, Zaibunissa Burki, one of the judges, said: "It's wonderful to see the sort of work our journalists - men and women, seniors, and those new to the field are continuing to do despite all the challenges they face. It was a pleasure to read so many stories that focused on human rights. This award becomes all the more important at a time when such stories don't make it to prime-time TV and to our very overly political front pages."
Xari Jalil, who won the award for her story on child sexual abuse, agreed. "It's very encouraging when journalists are rewarded and recognized for the hard work that they do. Reporting is after all not just a job. You have to devote your life to this work and bring change through your writings, so this should not go unnoticed. I am honored to have received the award," she said.
"It gives me immense pleasure to be receiving such kind of award. It is a great achievement for my journalistic career, being a district correspondent of Dawn, I'm also proud the organization that provided me the opportunity to do such work," said Umar Bacha, another recipient of the award.
The winners:
Excellence in reporting for Urdu newspaper and online content
Health rights – Muhammad Atif Sheikh
Child Rights – Henna Saeed
Women Rights – Muhammad Atif Sheikh
Excellence in Reporting for TV and Radio
Health Rights – Henna Saeed
Child Rights – Rashida Sadiq Kiani
Women Rights – Saman Khan
Excellence in Reporting by District Correspondents
Health Rights – Mureeb Mohmand
Child Rights – Umar Bacha
Women Rights – Muhammad Yousaf
Excellence in Reporting for English newspapers and English online content
Health Rights – Zofeen Ebrahim
Child Rights – Xari Jalil
Women Rights – Ghulam Dastageer and Muhammad Rizwan Safdar
Media professionals from across the country, members of the academia, development sector and the corporate sector attended the event.
Some of the prominent people present were Farhan Iqbal, Dr. Farrukh Iqbal, Afia Salam, Tasneem Mirza, Lubna Naqvi, Zubeida Mustafa, Azhar Abbas, Ahmed Iqbal Baloch, and Sara Siddiqui. – A CEJ media release