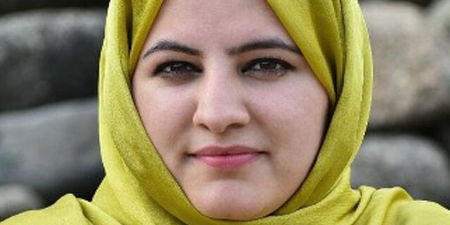 JournalismPakistan.com June 12, 2020


ISLAMABAD—Masrat Zahra, a Kashmiri photojournalist, and documentary photographer, contributing to Al-Jazeera, Washington Post, and other international organizations, has won the International Women's Media Foundation (IWWF) Anja Niedringhaus Courage in Photojournalism Award.
Zahra, born in Srinagar, announced her achievement on Twitter, saying she was happy for the recognition of her work.
"I am incredibly honored to share that I have won the Anja Niedringhaus Courage in Photojournalism Award from @IWWF I'm happy that my work has finally been recognized. After thanking Almighty, I would like to say a big thank to my mentor @ShowkatNanda for his guidance, love & care."
In another tweet, she said: "I also thank my family, my friends, colleagues and everyone who supported me when I was going through difficult times. I dedicate this award to the unshakable courage of my fellow journalists of Kashmir, especially women reporters and photographers."
Omar Abdullah, former chief minister of Jammu and Kashmir, Shoukat Nanda, documentary photographer, journalists, and others commended her work.
Photo: Twitter (@Masratzahra)