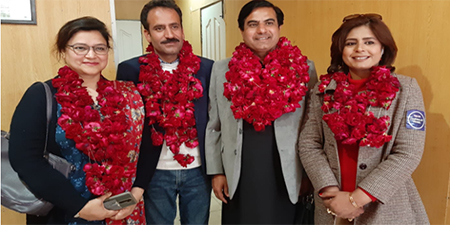 JournalismPakistan.com January 29, 2022


ISLAMABAD - The Journalist Panel has swept the annual elections of National Press Club (NPC) Islamabad, winning all the significant positions.
However, the opposition candidates belonging to the National Journalist Panel rejected the results, alleging rigging attempts.
According to the result announced by Chairman Election Committee Asim Qadeer Rana, Anwar Raza was elected president bagging 1017 votes, outshining his rival Shakeel Qarar of Azad Journalist Panel by a massive margin of 406 votes.
However, there was a neck-to-neck contest between Journalist Panel Khalil Ahmed Raja and Azad Journalist Panel Dr. Sadia Kamal for the vital post of secretary. Raja got 823 votes to edge ahead by 52 votes.
There were 13 candidates in the run for three seats of vice presidents. Journalist Panel's Azhar Jatoi with 980 votes, A. Nazir Charan (839 votes), and Ghazanfar Abbas with 825 were declared successful.
Jatoi, who remained at the top, was declared senior vice president. Myra Imran, also of the Journalist Panel, was elected vice president on women's seat as she bagged 939 votes to defeat her primary opponent Irfana Yasir, who got 467 votes.
Journalist Panel's Nayyer Ali was elected secretary finance winning 740 votes to see off her main challenger Usman Khan of Azad Journalist Panel, who got 640 votes.
There were 12 candidates in the run for the three joint secretary slots. However, Journalist Panel's Muhammad Aslam Lurka, Waqar Abbasi, and Tallat Farooq clinched these prime seats, getting 882, 805, and 791 votes.
On the joint secretary women seat, Shakeela Jalil was elected as she polled 949 votes to edge past her main rival Mahwish Fakhar, who had 493 votes.
Of over 2850 eligible voters at the club, 1963 turned up to vote on the election day Friday.
However, opposition candidates from the National Journalists Panel and others rejected the results.