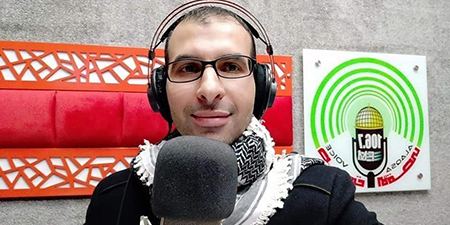 JournalismPakistan.com May 19, 2021


BRUSSELS—Palestinian journalist Yusef Abu Hussein (pictured) was killed after the Israeli military bombed his house in the Sheikh Radwan neighborhood of Gaza, while Turkish Anadolu Agency photojournalist Mohammad Dahlan was injured after an Israeli military bombing in the Tel al-Hawa neighborhood of Gaza.
The International Federation of Journalists (IFJ) and the Palestinian Journalists Syndicate (PJS) have condemned the killings and continued attacks on journalists and called on the international community to hold Israel responsible for its crimes.
According to the PJS, Yusef Abu Hussein, a presenter in a Palestinian Radio channel lost his life during an air raid that targeted the Sheikh Radwan neighborhood in Gaza City, where he lived.
He was among the four victims of Wednesday's bombing of Gaza, as Israel continued its bombardment of the besieged enclave. He is the first journalist killed since the current round of violence began in Gaza.
In a separate bombing, Mohammad Dahlan, a photojournalist for the Turkish news agency Anadolu was hit during an Israeli missile attack on the Gaza Strip, the news agency reported. The PJS confirmed he sustained injuries but his life is not in danger.
IFJ General Secretary, Anthony Bellanger, said: "We mourn the death of our colleague Yusef Abu Hussein and send our deepest condolences to his family, friends, and colleagues. He's yet another innocent victim of the brutal bombing that the Israeli military is carrying out in Gaza. This wave of violence must stop. The targeting of journalists must end."
The PJS said in a statement: "The syndicate extends deep condolences and condolences to his family, to Al-Aqsa Radio colleagues, and the whole journalists' community. The message and the truth will never be silenced. Journalists will continue their mission and report the crimes of the Israeli occupation against Palestinian civilians."
The IFJ has repeatedly condemned the Israeli targeting of journalists and media facilities in Gaza.
Many IFJ affiliates across the world have joined the IFJ efforts to hold Israel accountable for its crimes against journalists and shown solidarity with Palestinian and international journalists reporting on the ground.— IFJ media release