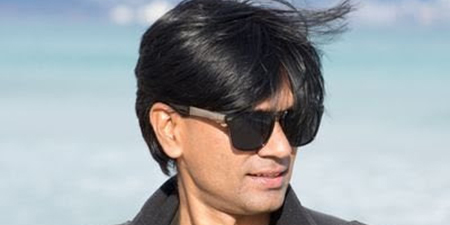 JournalismPakistan.com June 30, 2022


Indian journalist and AltNews co-founder Mohammed Zubair was arrested on June 27 for a Twitter post police alleged hurt religious sentiment in the country. The International Federation of Journalists (IFJ) and its affiliate, the Indian Journalists Union (IJU) condemned the arrest and called for Zubair's immediate release.
The Intelligence Fusion and Strategic Operations unit of the Delhi Police initially summoned Zubair for questioning regarding a 2020 case over social media posts. He already had protection against arrest from the Delhi High Court. Police then arrested Zubair for a separate complaint against a 2018 Twitter post about the Hindu god Hanuman. An anonymous Twitter user, using the name Hanuman Bhakt, called on police to take action against Zubair for the tweet that read: "Before 2014: Honeymoon Hotel. After 2014: Hanuman Hotel."
The anonymous Twitter user claimed that Zubair's linking of Hanuman with 'Honeymoon' directly insulted Hindus due to the god's connection with celibacy.
Zubair was charged under the Indian Penal Code section 153-A (for promoting enmity between different groups) and 295-A (for malicious acts intended to outrage religious feelings). On June 28, he was sentenced to four days in police remand for further questioning.
IJU President Geetartha Pathak and Secretary-General Sabina Inderjit said, "The arrest of Zubair is a yet another blatant attack on press freedom and a continuation of witch-hunting by the government to silence independent media and critics."
As co-founder of the fact-checking website AltNews and a prominent critic of Indian Prime Minister Narendra Modi, the journalist has faced repeated legal repercussions for social media posts relating to anti-Muslim hate speech. In June 2021, a criminal investigation was opened against Zubair and journalist Rana Ayyub, and Saba Naqvi for sharing a video on Twitter of an elderly Muslim man being beaten by a group of men. The journalists were accused of provoking communal unrest.
The IJU called for Zubair's immediate release and praised AltNews, saying it "is doing yeoman service in checking fake news and disinformation."
IJU said, "The Indian Journalists Union condemns in the strongest of terms the arrest of Muhammad Zubair, co-founder of fact checking website AltNews. His arrest by the Delhi police smacks of malafide as it comes for his post in 2018, claimed by a Twitter handle to be 'hurting religious sentiments."
IFJ said, "The IFJ condemns the arrest of journalist Mohammed Zubair and urges the Indian police to immediately withdraw all charges and release him from police custody."—IFJ media release