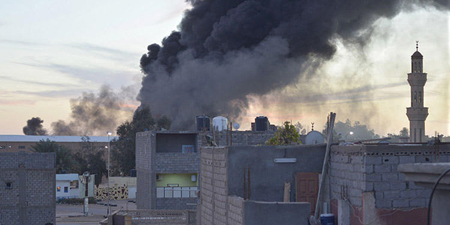 JournalismPakistan.com August 02, 2018


NEW YORK - The Committee to Protect Journalists has condemned the killing of Libyan journalist Musa Abdul Kareem in Sabha and urged the authorities responsible for the city to immediately investigate the circumstances of his death.
Abdul Kareem, a local reporter and photojournalist, was abducted on July 31, and found dead later that day, according to the Libyan Center for Freedom of the Press and news reports.
Amin Ahmed, a spokesperson for the independent Libyan Center for Freedom of the Press monitoring and documentation unit, told CPJ via Twitter that Abdul Kareem and his colleagues had regularly been threatened while reporting in the city, which is experiencing continued unrest. Ahmed added that Abdul Kareem co-authored an article three weeks before his death that detailed kidnappings and robberies in the city.
The journalist worked for Fasanea, a Sabha-based newspaper issued by Press Support and Promotion Authority, a Tripoli-based entity formed by Libya's National Transition Council in the wake of the 2011 uprising, with the stated goal of supporting a free and independent press.
"Musa Abdul Kareem reported in extremely trying conditions, and now his killing underscores the risks journalists take in covering the many facets of Libya's under-reported conflict," said CPJ Deputy Executive Director Robert Mahoney. "Any authority purporting to exercise control over Sabha should demonstrate their legitimacy by investigating his death and ensuring that local journalists can do their jobs safely."
In a tweet on July 31, the Libyan Center for Freedom of the Press said that the body of Abdul Kareem, 24, was found near Sabha city center with his hands bound. The privately-owned TV station Al-Nabaa quoted Osama al-Wafi, a spokesperson for the Sabha Medical Center, as saying that Abdul Kareem's body had 13 bullet wounds and bore signs of torture.
Sabha, which is along one of the main smuggling and transit routes for migrants from sub-Saharan Africa attempting to reach Europe, has been the scene of repeated clashes between armed groups loyal to the Libyan National Army based in eastern Libya and local armed groups loyal to the U.N. recognized government in Tripoli, according to news reports.
At least 11 journalists have been killed in Libya since conflict broke out in 2011 after the overthrow of Muammar Qaddafi, according to CPJ research. At least four others are missing. Journalists and their institutions have also been subject to repeated attacks and threats. – A CPJ News Alert/Photo: Reuters