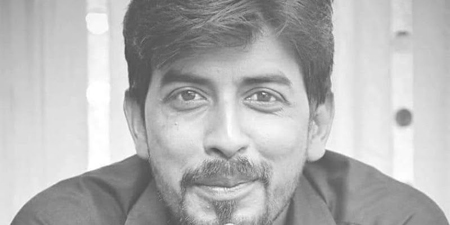 JournalismPakistan.com December 10, 2020


Qais Javed, a journalist affiliated with Ehadnama media news, was shot dead in front of his home on the night of December 7 in Dera Ismail Khan in Khyber Pakhtunkhwa (KP).
The International Federation of Journalists (IFJ) and its Pakistan affiliate the Pakistan Federal Union of Journalists (PFUJ) have condemned the gruesome murder and urged the authorities to conduct an impartial investigation and punish the guilty.
Unidentified gunmen riding on a motorcycle shot Javed multiple times around his stomach before decamping from the scene. He was rushed to a nearby hospital in Dera Ismail Khan but died on the way. Police are yet to make any arrests.
Javed, 37, worked as a camera person for many media outlets including Geo News. No group has yet claimed responsibility for the murder, but the region has a history of militant attacks on journalists and people from religious minorities. Javed belonged to the Christian community.
A First information report (FIR), filed by the deceased's cousin at the police station at Cantt on December 8, said Qais Javed was in his house when unidentified assailants on a motorcycle opened fire at him. It also said the assailants fled after firing at him many times.
Javed is the eighth journalist to be murdered in Pakistan in 2020 in what is becoming an increasingly grim year for journalist killings. The list of journalists targeted in the year includes Abid Hussain Abidi (Mandi Bahaudin, Malikwal district- September 25), Shaheena Shaheen (Turbat, Kech - September 4), Anwar Jan (Barkhan, Balochistan - July 23), Rao Ghulam Murtaza (Jodhpur, Punjab - June 1), Zulfiqar Ali (Jacobabad, Sindh - May 26), Javed Khan ( Matta, Swat District, Khyber Pakhtunkhwa - February 25) and Aziz Memon (Mehrabpur, Southern Sindh – February 16). The tally is double the number of journalists killed in 2019 when four journalists were murdered while carrying out their professional duties.

The PFUJ Secretary-General, Rana Muhammad Azeem, said: "The PFUJ condemns the murder of Qais Javed and demands that justice be done in the case."
The IFJ General Secretary, Anthony Bellanger, said: "The IFJ strongly condemn the murder of Qais Javed and express condolences to his grieving family. The IFJ calls on authorities in Khyber Pakhtunkhwa province to act swiftly to conduct a full and forensic investigation into his murder."
Photo credit: Sirajuddin