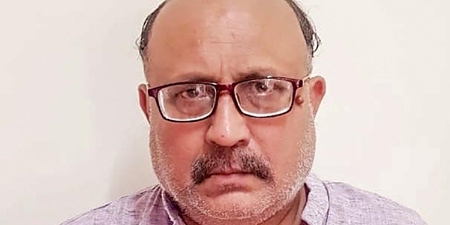 JournalismPakistan.com September 21, 2020


Indian Police have arrested journalist Rajeev Sharma over allegations of espionage.
Sharma stands accused of passing 'sensitive information' to Chinese officials. The International Federation of Journalists (IFJ) and its Indian affiliate, the Indian Journalists Union (IJU), are concerned by the arrest and urge the authorities to treat Sharma fairly under the law.
Delhi Police revealed on September 19 that the journalist was arrested for allegedly passing sensitive information about 'India's border strategy and Army deployment' to Chinese officials in exchange for money. He was arrested on September 14 under the Official Secrets Act.
According to the Deputy Commissioner of Police (DCP) Sanjeev Kumar Yadav, Sharma received USD 1,000 for each release of information. Police have accused him of receiving 4 million rupees (USD 54,584.96) in one and a half years of delivering information to Chinese officials.
The police stated that it also seized confidential documents related to the Indian defense department from Sharma's residence. Chinese national Qing Shi and her Nepali associate Sher Singh were also arrested on accusations of espionage against India.
Sharma had been writing on foreign affairs for several Indian media outlets and wrote a weekly column for the Global Times from 2010 to 2014.
Sharma's arrest comes when tension between China and India has heightened over border disputes in the Himalayan region following a clash in June where 20 Indian troops were said to be killed.
The Indian Journalist Union (IJU) Secretary-General Sabina Inderjit said: "The IJU is saddened to hear of Sharma's arrest and hopes that Delhi police and other agencies of Indian government will act keeping fairness and objectivity in mind in relation to Sharma's case."
The IFJ said: "The IFJ is concerned by the arrest of Rajeev Sharma. We urge the authorities involved to carry out an independent investigation to ensure that the trial process is fair and transparent and there are no adverse impacts on press freedom in the country".—IFJ media release/Photo: PTI