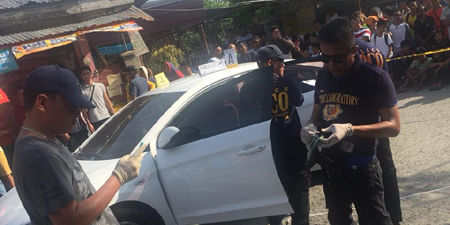 JournalismPakistan.com June 08, 2018


Journalist Dennis Denora was brutally murdered in a brazen attack on Thursday, June 7, in the southern Philippines' region of Mindanao.
The International Federation of Journalists (IFJ) and its affiliate, the National Union of Journalists of the Philippines (NUJP) condemned the murder, and once again called on the Duterte Government to take immediate action to end the culture of impunity that is crippling the media in the Philippines.
Dennis Denora was the publisher and columnist of the community paper, Trends and Times, and an officer of the Davao Region Multi-media Group. He was shot by unidentified persons near the wet market of Panabo City in Davao del Norte. Denora's colleagues acknowledged that he was 'fearless' in his commentaries in broadcast and print.
Denora is the 11th journalist killed in less than two years since President Duterte took office, and the 184th journalist murdered in the Philippines since 1986. Also concerning is the fact that of the six journalists killed in the Philippines since January 2017, Denora is now the fourth to be murdered in Mindanao, the same island in the Philippines where the Ampatuan Massacre occurred, where 32 journalists were murdered.
The NUJP said: "This latest media killing belies Malacanang's claim that the Philippines has improved its position among the deadliest countries in the world to be a journalist. It also highlights what we and allied media organizations noted on World Press Freedom Day early this month, that journalism has become an even more dangerous endeavor under Duterte, who has himself spearheaded the vilification of the press because he cannot abide criticism. Even as we demand swift action by authorities on this and all other media killings, we also hold President Duterte accountable for our colleagues' deaths."
The IFJ general secretary, Anthony Bellanger said: "The murder of Dennis Denora once again raises serious concerns about the safety and security of journalists and media workers in the Philippines. The fact that the government of the Philippines continues to take no action to improve the situation and end the culture of impunity for crimes against journalists, is a blatant attack on press freedom. The IFJ stands with NUJP and our colleagues in the Philippines in demanding action and security for the media."
The NUJP has organized a press freedom rally to mark the murder of Dennis Denora in Quezon City on Friday June 8. - IFJ media release