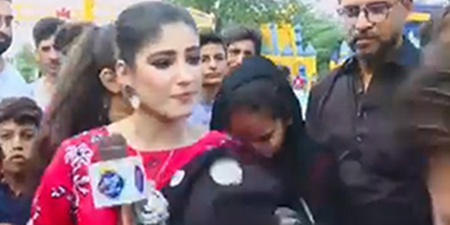 JournalismPakistan.com July 11, 2022 Cherie Conela



LAHORE—Maira Hashmi, a female reporter with Lahore Rang TV, slapped a young boy while covering Eid celebrations in Lahore.
In video footage shared by Hashmi on her Facebook wall, she is seen reporting at a crowded public place. Later, she becomes annoyed and slaps a boy standing there.
The video went viral on social media, and various internet users criticized the act, saying this is not the correct way to handle such unwanted situations.
"You don't have rights to physically harm anyone. If you feeling such problems then you can call police. This is not appreciated," a social media user commented. Similarly, another person advised her, "A working journalist must demonstrate tolerance at any cost, even if the situation is not favorable."
However, the reporter defended herself. "I strongly dislike any kind of disturbance while on duty." She said the guy was harassing a family during the interview, which upset the family. "I tried to convince him politely not to do such a thing, but he refused."
"I couldn't tolerate the boy's bullying anymore, and I was forced to take such a hard line," she wrote on her Facebook wall, emphasizing that she was unaware that the camera would record the scene.
Lahore Rang is a news channel that covers different galas, events, sports, shows, and all kinds of breaking stories from Lahore.
It is also the city's most popular channel on digital media, with a dedicated viewership of over one million and monthly viewership exceeding 30 million.