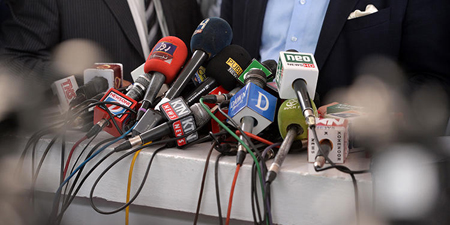 JournalismPakistan.com September 12, 2018


WASHINGTON D.C. - Pakistan's press is under pressure as the country's powerful military quietly but effectively encourages self-censorship, the Committee to Protect Journalists found in its report, "Acts of Intimidation: In Pakistan, journalists' fear and censorship grow even as fatal violence declines."
The report is accompanied by a short documentary film and a panel discussion at the Wilson Center in Washington, D.C.
The report, based on interviews with journalists during a mission to Pakistan this year, found that measures to stomp out terrorism in the country have gone hand-in-hand with increased pressure on the media.
The military bars access to certain areas uses direct and indirect acts of intimidation, and even allegedly instigates violence against reporters to prevent critical reporting. Freelancers and journalists from established media companies said that to avoid retaliation they often tone down or avoid controversial but newsworthy stories.
CPJ research shows fewer journalists were killed in retaliation for their work in recent years, but impunity remains an issue, with the military, intelligence, or military-linked and political groups the suspected source of fire in half of the 22 journalist murders in the past decade.
"While the decline in the killing of journalists is encouraging, the government needs to counteract pressures that have resulted in rampant self-censorship and threats to the media," said CPJ Asia Program Coordinator Steven Butler. "Pakistan must address the disturbing trend of impunity and attacks on journalists to shore up this faltering pillar of democracy."
The report, written by Butler, includes recommendations to Pakistan's government and news media owners and editors. CPJ's multimedia producer Mustafa Hameed contributed research and reporting and produced the accompanying documentary. – A CPJ media release