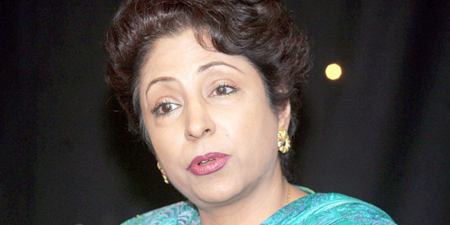 JournalismPakistan.com August 17, 2017


ISLAMABAD – Dr. Maleeha Lodhi, Pakistan's Ambassador to the United Nations and a top journalist at one time, says she has no intention of returning to journalism.
In an interview published in Daily Times Thursday she said journalism prepared her for what she did subsequently in her career in diplomacy. ".. I enjoyed the eventful years I spent as an editor. But I think I have moved on and don't see myself returning to run a newspaper."
Dr. Maleeha was the editor of The Muslim (now defunct) and the founding editor of The News.
She said the road to success was not easy for her. "Any woman who has tried to break the glass ceiling will tell you it is never easy. One encounters all kinds of obstacles. But it is clear that to seek to be a winner one can't be a whiner.
"My effort, or shall I say struggle to reach the top in the newspaper I worked for, did face challenges but in the end, the owner saw and acknowledged my work and commitment and appointed me as the editor," she said.
"I was thrilled of course and knew that I would still face some resistance from mostly the male members of the staff. It took time but I think when they saw I was thoroughly professional in my approach, they came to accept and I hope to respect me. But I have to say; I also had extraordinary support from other colleagues, which helped me surmount the challenges."
Dr. Maleeha has had a career in teaching before she joined the media. She is also an author and was named by Time magazine as one of 100 people in the world who will help to shape the 21st century.