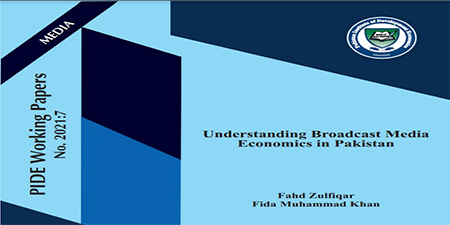 JournalismPakistan.com August 06, 2021


ISLAMABAD—The cut in the advertisement budgets negatively impacted the broadcast media industry in Pakistan, according to a research paper by Pakistan Institute of Development Economics (PIDE).
The paper—Understanding Broadcast Media Economics of Pakistan by Fahd Zulfiqar and Fida Muhammad Khan—maintains that between 2002 and 2017, a cumulative investment of $4 billion in the electronic media industry was made in Pakistan. In the early days, the broadcast media "was dependent on advertisement revenues from telecom firms." From 2015 till 2017, the advertising market size increased from Rs66.9 billion to Rs87.7 billion.
However, after 2018 there was a decrease in the advertisement budgets. The paper said in 2018, Punjab and Sindh governments cut down advertisement budgets by 70%. "Pakistan's TV ad-spend 2014-2019 has experienced 7% decrease in 2020, 26% decrease in 2019, and 9.5% decrease in 2018. Overall, a downward trend started in 2017."
This led to closure of organizations. "The situation drastically changed later, particularly in 2018 as advertisement revenues shrunk for print and electronic media which brought news organisations to closure."
However, at the same time, digital media witnessed an increase in advertising revenues. "Pakistan's digital ad-spend has increased from 2014-2020 with a 30% increase in 2020, 31% increase in 2019, and 45% increase in 2018."
The research paper attributed the increase in the advertisement revenues from 2013 to 2017 to "millions of rupees spent by political parties on election campaigns."