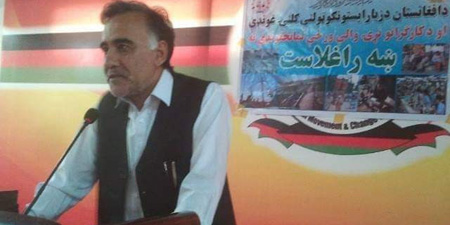 JournalismPakistan.com December 06, 2018


Unidentified armed men abducted Engineer Zalmay (pictured), director and owner of the Enikass radio and television stations, after killing his driver on December 4 at Jalalabad, Nangarhar province in eastern Afghanistan.
The International Federation of Journalists (IFJ) joins its affiliate the Afghanistan Independent Journalists Association (AIJA) in condemning the abduction and urges the Afghan authorities to urgently act for the safe recovery of Zalmay.
Zalmay was kidnapped at 5:00 pm during a shopping trip. He was taken by a group of armed men who arrived in an armored vehicle. His driver was shot and taken to hospital where he later died. The police arrived at the area soon after the incident and cordoned off the scene.
Enikass is a popular media group in eastern Afghanistan near Pakistani borders where the ISIS, the Taliban, and other terrorist groups have an active presence. No group has taken responsibility for the attack. On December 1, 2017, the ISIS attacked the building of the Enikass radio by a rocket.
AIJA President Rahimullah Samandar said: "The AIJA strongly condemns the target attack and calls upon government and security agencies to find and protect Zalmay as soon as possible."
The IFJ said: "The IFJ condemns the abduction of Engineer Zalmay, the director and owner of Enikass radio and television in Afghanistan and killing of his driver. It's unfortunate that such attacks on media continued unabated in Afghanistan despite repeated commitment by the government to provide security to the journalists. The IFJ demands urgent action from the Afghan authority to ensure safe recovery of Zalmay." – IFJ media release/Photo: AIJA