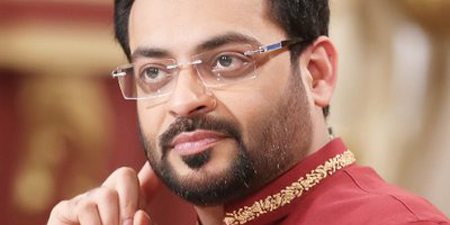 JournalismPakistan.com December 12, 2017


ISLAMABAD – Anchor Aamir Liaquat announced Tuesday he had joined Channel 24 as the network's president.
"I would like to announce that I have joined Channel 24 as President Network. Soon you will see my programs from @24NewsHD Need prayers :) #AamirLiaquat," he tweeted.
The controversial Liaquat quit BOL News as its executive president on a sour note last month saying: "The journey has come to an end & not a friendly end."
Liaquat's stay at BOL was full of controversies. A few months ago, he announced in his program Aisay Nahi Chalay Ga he was hosting his last show that day.
Insiders say he got scolded by the CEO during a break in his show for making remarks on air not in line with BOL's policy. This prompted him to make the announcement to quit.
Following that incident, he remained off screen for many days. Officials said he was on leave. In fact, the management was persuading him to return. He did come back.
At the start of the year, the electronic media regulator PEMRA banned his program for preaching hate. The Supreme Court later ordered BOL News to stop airing hateful content forthwith or face contempt of court charges.
In March, PEMRA ordered Liaquat to apologize unconditionally to all individuals in his program by specifically naming each of them against whom he made hate comments. A fine of Rs1 million was also imposed on the channel.
In September he was arrested in Myanmar by immigration officials on arrival. He had gone there to help the troubled Rohingya Muslims. He was later deported.
Last week, PEMRA's Council of Complaints recommended fines on BOL News for Liaquat's hate campaign against Geo-Jang Group in Aisay Nahin Chalay Ga.
After leaving BOL, Liaquat apologized to individuals he targeted in his show. "I apologize to all those individuals whom I may have hurt during my program. I hope they will forgive me. What I did was the management's policy," he said in a video posted on social media in November.
Photo: Twitter (@AamirLiaquat)