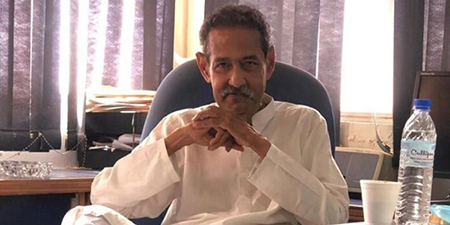 JournalismPakistan.com May 29, 2022


ISLAMABAD—Novelist Muhammad Hanif has termed Talat Aslam (pictured), who died two days back, a journalist of the people who was more interested in what's happening on the streets than in the corridors of power.
In an obituary on BBC Urdu, Hanif remembers the days when the leading names such as Zahid Hussain, Abbas Nasir, Kamran Khan, Nusrat Javeed, and Idrees Bakhtiyar would come up with the news of the powerful.
"Zahid Hussain would give the news that the government is going, but Abbas Nasir would tell that the deal is done and the government is going nowhere. Kamran Khan would tell us how Asif Ali Zardari got money out of somebody by tying a bomb to his leg. Nusrat Javeed would keep an eye on everybody in the parliament and would interpret politics poetically. Idrees Bakhtiyar would give the news that MQM's Imran Farooq has again been ousted from the Rabta Committee."
Talat Aslam stood apart. "At a time when the focus of journalism was politics, and that too the politics of the powerful, the story published on the cover of Herald was 'Street Beat'. In other words what's happening in the streets."
Hanif says Talat Aslam would go to small cities and towns of Punjab to see who was singing and listening. The people in small cities and towns were much better at understanding the nation's pains than the political analysts in Punjab.
"Talat was addicted to journalism but not to power. Perhaps that is why there were no politicians, bureaucrats, or tycoons around him. He cared more for young people from small towns who were passionate about journalism.
Photo courtesy: geotvnews.com