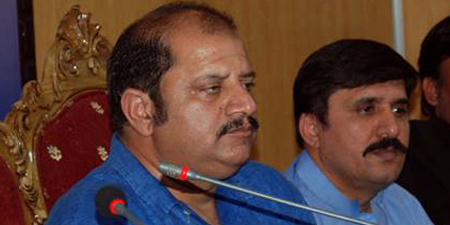 JournalismPakistan.com October 02, 2017


ISLAMABAD – Journalists unions Monday condemned the Rangers' action to throw out journalists from the Accountability Court where former Prime Minister Nawaz Sharif was to appear for a hearing in corruption cases.
The Pakistan Federal Union of Journalists (PFUJ) and Rawalpindi-Islamabad Union of Journalists (RIUJ) leaders termed the action as an attack on the freedom of press.
The union leaders, among them PFUJ President Afzal Butt (pictured, left) and RIUJ Chief Mubarak Zeb Khan (pictured, right), pointed out that an SOP for coverage of the court proceedings had been mutually prepared and agreed upon by the Accountability Court and RIUJ.
They said that under this SOP, two journalists from one news organization could enter the court compound while a third was allowed to enter the court room.
Adhering to the said SOP, one journalist each from major news organizations entered the court room. But suddenly, the Rangers threw them out and prevented them from covering the hearing.
Both PFUJ and RIUJ said this was a clear violation of the Constitution. The leaders called for action against the Rangers personnel involved.
Photo: Facebook/Mubarak Zeb Khan