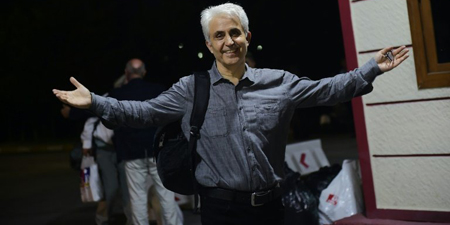 JournalismPakistan.com July 30, 2017


ISTANBUL - Seven staff from the Turkish opposition newspaper Cumhuriyet were provisionally freed Saturday after nine months in jail, as calls intensified for the release of four journalists still behind bars.
An Istanbul court Friday ordered that the seven be released under judicial control, meaning they remain charged and will have to report to the authorities, although it is rare in Turkey for defendants in such cases to be sent back to jail.
A total of 17 staff from the newspaper - one of the few voices in the media in Turkey to oppose President Recep Tayyip Erdogan - had been on trial for aiding "terror" groups, accusations denounced as absurd by supporters.
But despite growing pressure from abroad but also within Turkey for the release of all the defendants, the most prominent journalists from the newspaper were ordered by the court Friday to remain in jail.
The seven freed - including respected cartoonist Musa Kart, Books Supplement Editor Turhan Gunay and the paper's legal executives - left Silviri jail on the outskirts of Istanbul to cheers and embraces from supporters.
They had been held for 271 days.
"We were taken away from the people we love, our relatives, our work," said Kart after his release.
But he added: "Believe me, during this period in jail we have felt no hatred, no rancour, we could not live with such thoughts."
The staff is charged with supporting in their coverage three entities that Turkey considers terror groups - the Kurdistan Workers' Party (PKK), the ultra-left Revolutionary People's Liberation Party-Front (DHKP-C), and the movement of Fethullah Gulen, the US-based preacher who Ankara accuses of ordering last year's coup attempt.
The four remaining in custody include some of the biggest names in Turkish journalism - commentator Kadri Gursel, investigative journalist Ahmet Sik, the paper's editor-in-chief Murat Sabuncu and chief executive Akin Atalay.
Eight other suspects are also charged but not in jail.
Kart said: "The image of journalists in jail is not flattering for our country and I hope our four friends will come out as soon as possible." - AFP/Image AFP: Cartoonist Musa Kart