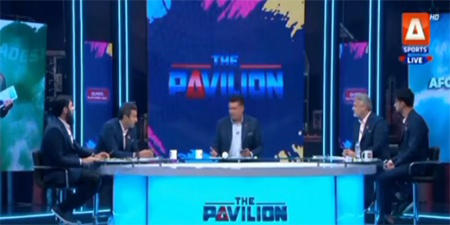 JournalismPakistan.com October 08, 2023


ISLAMABAD—There was an embarrassing moment during the talk show, The Pavilion on A Sports when a question regarding former Prime Minister Imran Khan went unanswered.
Fakhr-e-Alam, the program host, read the question in English without naming the former prime minister, who was the captain when Pakistan won the cricket World Cup in 1992. The show's participants were Wasim Akram and Moin Khan, both part of the winning 1992 team, along with Misbahul Haq and Shoaib Malik.
There is an unwritten ban on naming or showing the pictures of Imran Khan, who is behind bars facing a number of cases after the May 9 events.
The question was: "Did Qasim kay Abba used to show Pak team all matches of World Cup to prepare them for coming matches? How impactful it can be?"
Without waiting for an answer, the host said, "Okay I get that…I want to move on to the next one (question)…" Then he looked towards the participants of the show. Wasim Akram shook his head sideways and gave a wary laugh. All four participants preferred to remain quiet.
It is not the first time the mention of Imran Khan created an awkward response. In a talk show, when the host called Imran Khan Qasim kay Abba, former Test bowler Saeed Ajmal asked the host why she was not naming the former captain by his name.
The Pavilion on the A Sports and Ten Sports channels discusses the World Cup matches in India.