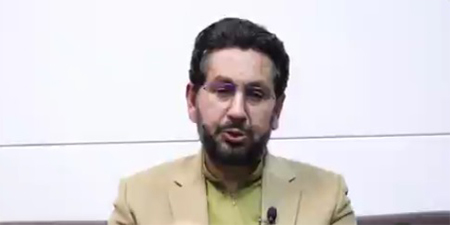 JournalismPakistan.com July 13, 2021


ISLAMABAD—Television presenter Salim Safi is not happy with politicians in the government and the opposition.
In a tweet in Urdu, he blasted both the government and the opposition members in the parliament. On the one hand, he said the "selected government" is angry with the media. On the other, politicians opposed to Taliban, instead of blaming America (for the situation in Afghanistan), are also taking out their frustration on the media.
Safi did not stop here. Terming the current parliament "fake," he said the politicians enjoyed privileges but asked journalists to leave journalism if there was no independence. He dared the politicians in the parliament to show courage and leave it.
It seems Safi is not happy with the feedback to his interview of the Taliban spokesperson, Sohail Shaheen.
In another tweet, he added that the agreements with the Taliban have been reached by the previous governments, including the government of Awami National Party in Khyber Pakhtunkhwa. He added that Aimal Wali Khan, provincial president of ANP, was invited to his talk show in which Sohail Shaheen appeared, but he was busy. In a stinging attack on ANP, he said the party is part of the "selected government" in Balochistan.
He was replying to a tweet of local ANP leader Khadim Hussain, who maintained that the spokespersons of those involved in suicide attacks, bomb blasts, and destroying educational institutions with blasts appear on TV in Pakistan. At the same time, there is no place for Baloch, Pushtun, and Sindhi nationalists on media.