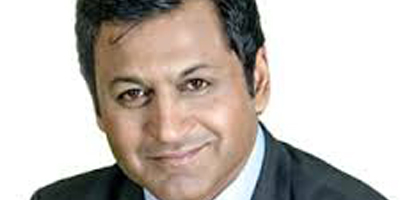 JournalismPakistan.com September 06, 2016


ISLAMABAD – Fahd Husain was Tuesday appointed editor of The Express Tribune, replacing Kamal Siddiqi, who resigned after seven years at the helm.
Presently the Executive Director at Express News Television, Fahd will serve in both positions, an official email sent to staff by CEO Sultan Lakhani said. JournalismPakistan.com had reported on September 4 that Fahd was the man most likely to head the paper.
Siddiqi on the other hand, who stepped down to focus on education and research, has been asked to continue his association with the paper as an editorial consultant.
"As Kamal has been associated with Tribune from the day of launch, we have requested him to continue his association with the newspaper as an editorial consultant. He would be overlooking the editorial and opinion pages in his capacity as an editorial consultant," Lakhani wrote.
Fahd is a seasoned journalist with 25 years of experience in print and broadcast media during which he served as editor of two national English language newspapers.
Lakhani said that these were exciting and challenging times for the media in Pakistan and due to the hard work by his team, Express Tribune was ideally placed to build on the quality and prestige it enjoys now.
"We are determined to take the newspaper to greater heights through innovation and, wherever necessary, reinvention. In an era of digital domination, we are already ahead of the curve, and yet recognize that content is king. With a professional team at the helm, we will inject greater focus into producing high standard journalistic content that will gain greater traction and momentum through better synergies with other news outlets in the Express Media Group.
"We have traversed a long distance since the launch and our path is clear for the future – we are invested in making Express Tribune the top English newspaper in Pakistan," he said.
Related posts from JournalismPakistan.com Archives:
The Express Tribune removes Fahd Husain's article from website
Fahd back at Express News: reports
Waqt hires Fahd in third big signing