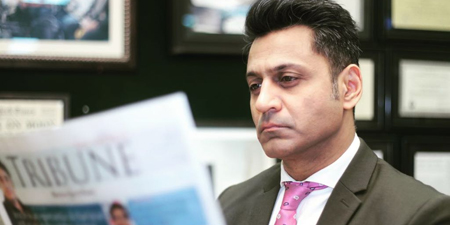 JournalismPakistan.com April 13, 2015
ISLAMABAD: The Express Tribune has removed an article written by Fahd Husain (pictured) from its website reportedly on the request of a government official as it was deemed to be "too provocative and insulting to Sheikhs of Arab states."
Husain is the Executive Director News at Express News Television and is a regular columnist for The Express Tribune, the group's English-language daily.
In his article - The sweet sound of a glorious oil-drenched slap - Fahd lambasted the UAE Minister of State for Foreign Affairs Dr Anwar Mohammad Gargash for his comments against Pakistan,
"Husain has used some obnoxious words like 'oil-spoilt sheikhs,' 'tin-pot Arab rulers,' 'piddling Sheikhs,' and 'vomited a gem,' in his article and this may have forced a top government official to request the Tribune management to remove the article from the web," a source told JournalismPakistan.com.
The writer criticised Gargash over his interview to Khaleej Times wherein he termed Pakistan's neutral stand on Yemen crisis as "laggard impartial stand," and even threatened the country of dire consequences.
The article has been removed from the web but can still can be read on e-paper.