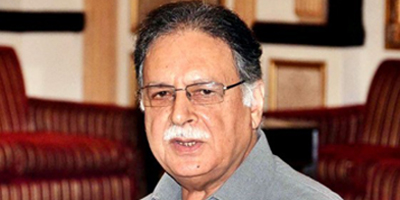 JournalismPakistan.com March 16, 2016


ISLAMABAD: Minister for Information and Broadcasting Pervaiz Rashid Wednesday informed the National Assembly about their efforts to explore options to unfreeze accounts of BOL TV to pay staff salaries.

During the question hour, Rashid said his ministry has sent two letters to the Ministry of Law, Justice and Human Rights, asking if FIA could request the sessions court, Karachi, to "de-freeze bank Accounts of Directors AXACT and allow transfer of funds of Rs17.44 million to the bank accounts of BOL TV Network with specific directions to use such money only for payment of outstanding salary arrears to the Employees of BOL TV Network." However the response of the law ministry is still awaited. One letter was sent on February 10 and the other on March 10 this year.

The minister was replying to a question by Naeema Kishwar Khan of JUI-F who asked if BOL TV was closed. Further, she asked about the number of BOL TV employees who had become jobless and the number of those whose salaries have been stopped.

On the question of closing the TV channel, the minister informed the house that PEMRA in a September 2015 meeting "unanimously decided to suspend both the licenses of M/s Labbaik (Pvt.) Limited namely BOL News and BOL Entertainment till completion of all legal and codal requirements i.e. Security Clearance from Ministry of Interior."

About the number of employees who have become jobless, the minister maintained PEMRA did not collect this information as it was "beyond their mandate and jurisdiction". However he added the Ministry of Information wrote a letter to the channel's management on March 14 "requesting it to provide this information on priority basis in order to address the question asked by the Hon'able MNA."

Citing the Islamabad High Court petition of Rawalpindi Islamabad Union of Journalists for the restoration of salaries of BOL employees, the RIUJ and the Ministry of Information have held two meetings. In the second meeting, it was decided the RIUJ would provide "all relevant documents which may include the appointment letters of said employees indicating their salary emoluments etc., and tabulated working of their claims of salary and salary arrears for the impugned period."
On the information provided by RIUJ, "the ministry is to give its findings/ decision…after a thorough consultative process with the other respondents" which include the interior secretary, chairman PEMRA and if needed the Ministry of Law.

The minister's reply included the letter to the CEO of BOL TV.
Related posts from JournalismPakistan.com Archives:
BOL workers warn of staging sit-in outside Parliament House
BOL workers to resume protests
PEMRA in bid to settle BOL staff salary issue