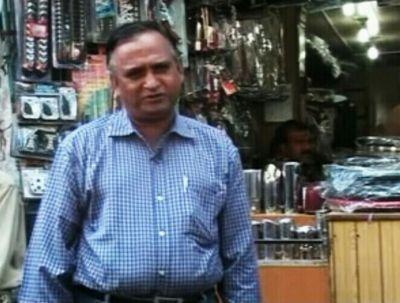 JournalismPakistan.com September 25, 2015 By Chatterbox



ISLAMABAD: "Karachi se Eid kay leeay… do teen kass kay thappar!!"
That's not the way it goes you say, but isn't it true? Sure Karachi Railway Police went a step too far when one of their personnel took it upon himself to land a couple of solid ones on the face of private TV channel reporter Chand Nawab after being thoroughly irked by the reporter's bull dog-like persistence in accusing them of selling train tickets for 20 and 30 times the real value.
As the story goes, the reporter of the "Karachi se" and "Bajrangi Bhaijan" fame was sought by and alerted by the passengers. They insisted that he do something to help them and he did.
In his typical haranguing style, more akin to that of a nagging housewife, he went after the railway officials and especially the Railway Police with fired up enthusiasm, turning a complete deaf ear to what they had to say in defense.
The sad part is he abused his 'fame', notorious and ill-founded as that is. He ignored the golden rule of reporting, which is to report factually, get the story of both sides and not make accusations. His job was that of a news reporter not that of a judge.
Well one thing led to another, words were exchanged and then blows.
Later while speaking to a senior police officer, Chand Nawab once again accused the police of deliberately beating him up for questioning them about selling the tickets at exorbitant prices. The police office totally denied everything, including slapping him.
And I would not have filed this story for JournalismPakistan.com.
But….
In his harangue with the police officer he said: "Mein world famous reporter hoon!" (You can find this in a segment he has posted on his Facebook account.)
OMG!!
World famous?
I did not know that Pakistan and India constituted the world. Furthermore, famous for what?
Notoriety of a laughable, embarrassing variety would be more like it.
Let's roll this back a bit. In 2006 Chand was trying desperately to record a P2C (Piece to Camera) to anchor his report on people leaving for their hometowns via trains at the Karachi Railway Station. After numerous flubs and disturbances an irritated Chand finally managed to get it done.
One of his colleagues edited all his flubs together and put it on the web. It went viral.
It constituted everything a reporter should not do. His attempts at getting the job done were pathetic while also being extremely funny, it was also a lesson for all young professionals in what to avoid, including getting nasty, physical and abusive with onlookers.
The first time I saw the video it was featured on JournalismPakistan.com about three-and-a-half years ago. I was aghast that somebody could be so lacking in how to get his job done.
Then the big break came for Chand, ironically after he almost lost his job because of that video of his flubs. An Indian film director picked up on the video and incorporated it into his movie, thereby insuring Chand became a hit yet again… not for his reporting and not for being a good reporter, but for being the man who struggled to get a simple P2C done.
That is not fame.
Definitely not world fame.
Somebody needs to tell him what the word "notoriety" means.
Riding on that false sense of fame got him slapped a few days ago. But then what goes around comes around. A while back while doing another P2C, Chand suddenly lost his temper with a little boy who stepped out in front of the camera. In a flash, Chand reached out and slapped the kid.
And the incident at the railway station just brings everything full circle very nicely, proving rather ironically what goes around comes around!!.