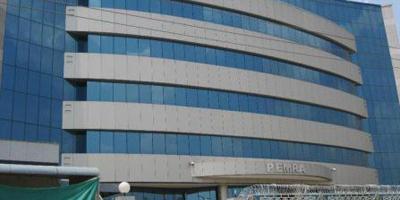 JournalismPakistan.com April 22, 2014
ISLAMABAD: The Hamid Mir attack saga continued Tuesday as media reports said the Ministry of Defense had filed a petition with PEMRA against Geo Television for allegedly defaming the ISI and its chief.
However, there was confusion who filed the petition, reference or an application with PEMRA. It was also not clear what the petition sought, though some channels claimed it demanded suspension/cancellation of Geo TV's license.
The Nation reported that journalist Khushnood Ali Khan had filed an application with PEMRA against Geo News for allegedly violating PEMRA rules on April 19, the day Hamid Mir was attacked.
Mir, undergoing treatment at a Karachi hospital was shot six times after his car was ambushed a short distance away from the airport by unidentified gunmen last week.
A report on Express News Television said the secretary defense sent the reference against Geo TV to the Minister of Defense, who in turn sent it to PEMRA.
Zaid Hamid, who has been aggressively tweeting against Geo News and Hamid Mir, tweeted: "Letter from army was sent to Min of def. Approved by Khawaja Sra Asif :) Then sent to PEMRA. All previous crimes of #Geo are evidence in it."
Quoting sources, Dunya Television said the Defense Ministry has moved against the private TV channel in PEMRA, alleging Geo was involved in anti-Pakistan activities. The Ministry also provided reported evidences against the TV channel.
"The petition said that Geo News leveled baseless allegations against Pakistan's security institutions and its chief," the report said.
However, according to The Nation report, Khushnood in his application stated that Geo and its employees blamed and held the Director General ISI and the armed forces of Pakistan responsible for the shooting and murder attempt without any concrete evidence.
The application further stated that ISI and the armed forces were vested with the task of safeguarding the security and integrity of the country and any attempt to falsely malign them was prejudicial to the security and integrity of Pakistan.