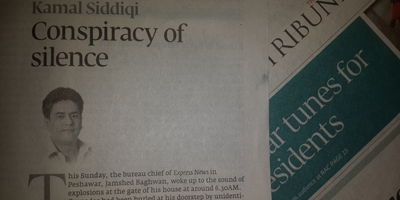 JournalismPakistan.com April 07, 2014
ISLAMABAD: In an op-ed piece titled 'Conspiracy of silence' published Monday, The Express Tribune Editor Kamal Siddiqi laments lack of unity amongst the journalist fraternity as threats to the media continue to mount.
"It is a fact that there is no unity amongst the journalist community. We have a great tradition of abiding by democratic traditions but at the same time we have done poorly in terms of sticking together. There are splinters within splinters," he wrote.
He quotes columnist Ejaz Haider as saying at a protest in Lahore condemning death threats to senior journalist Imtiaz Alam that threats journalists face today cannot be tackled individually. "Unfortunately, if there is an attack on a journalist of one media house, the other media houses remain silent," he wrote quoting Haider.
Siddiqi also refers to two recent attacks on Express Group journalists - the latest being Sunday's grenade attack on the house of Express News Television's Peshawar Bureau Chief Jamshed Baghwan and the March 28 attack on Raza Rumi another journalist with the channel.
Siddiqi wonders why would someone want to target Baghwan, whom he describes as a professional journalist, impartial and ubiased in his work and much loved and a highly respected member of Peshawar's journalistic fraternity.
In the same vein he wonders why would someone want to silence Raza Rumi - a thorough professional and a honest and astute political analyst. "He is not a spin doctor and neither does he pursue anybody else's agenda. He is respected in the profession."
Siddiqi points out that "we can continue to lament our state or do something about it. "For those who say that we are fussing for no reason because as journalists this is what to be expected, one cannot argue. Our profession asks us to report truthfully, not to die silently.