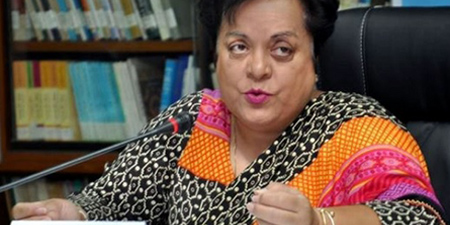 JournalismPakistan.com September 25, 2020 Published 25 days ago


ISLAMABAD: Minister for Human Rights Shireen Mazari on Friday denied the Federal Investigation Agency had registered any case against journalists.
She was responding to a tweet by the Human Rights Commission of Pakistan in which it expressed alarm over the registration of cases against 49 social activists and journalists for defaming national institutions.
DawnNews TV first aired the news and again discussed it in its talk show Zara Hut Kay, hosted by Mubashir Zaidi, Wasatullah Jan and Zarrar Khuhro.
The minister termed the news incorrect, saying a private citizen sent a complaint to FIA against around 12 journalists, including Matiullah Jan, Umer Cheema, Asad Toor, Ammar Masood, Murtaza Solangi, Bilal Farooqi and others. She added that FIA had not registered any case.
"This was disturbing news so I checked & my info is it's incorrect. A private citizen has sent complaint to FIA against around 12 journalists. FIA examines all complaints but NO FIR has been registered & FIA can't register FIR under PECA without following specified legal procedures."
In another tweet, the minister asked if there was more information regarding this episode if so she was ready to follow it up. "If anyone has contrary evidence in terms of FIRs do let me know so I can follow up further."