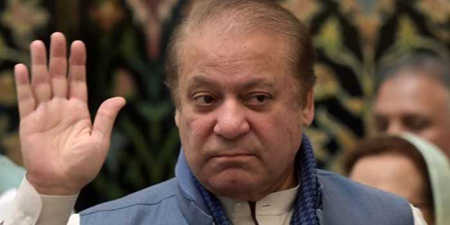 JournalismPakistan.com November 14, 2019


ISLAMABAD — As with every political episode, journalists were divided on the government's conditional permission to former Prime Minister Nawaz Sharif to proceed abroad for treatment.
Veteran journalist Imtiaz Alam expressed anger. In a tweet in Urdu, he said the condition of indemnity bond was to tell PTI supporters that only after getting the "looted" wealth, the ex-prime minister was being allowed to leave. And if he refuses to go outside Pakistan, the PTI government can claim that Sharif is more worried about his wealth than this health.
However, analyst Imtiaz Gul thought that some guarantee was a must. "Trust me it could be the some crooked judges tomorrow to call out Imran Khan if Sharif doesn't return. There has to be some guarantee. Strange that ICU has been set at home. No hospital worth of Sharif treatment. How ironical for a family ruling Pakistan for over 2.5 decades."
He was replying to a tweet by columnist Mohammad Taqi who termed Prime Minister Imran Khan and his cabinet a disgrace to the concept of the rule of law and constitution. "Imran Khan and his cabinet are a disgrace to constitution, law, medicine and basic human decency. The proposed stipulations for Mian Nawaz Sharif's travel are unconstitutional, illegal and fly in the face of medicine and morals."
Tariq Butt of The News also harshly criticized the PTI government. "Anybody who expects govt will act sanely in removing Nawaz Sharif's name from ECL when cabinet subcommittee is headed by Mush lawyer, Farogh Naseem, is a fool."
ARY presenter Sabir Shakir, however, told PMLN that this was no time for politics over the ill health of the former prime minister. In a tweet in Urdu, he asked PMLN to suspend all political activities, submit the bond and take Nawaz Sharif outside Pakistan for treatment.
Cyril Almeida, formerly of Dawn there was no other than to give NRO to Nawaz Sharif. "Nawaz was forced to let Musharraf go, IK will be forced to let Nawaz go... and on and on it will go?"
Saleem Safi of Geo New was sarcastic, saying if the former premier's name were Zulfi, he would have been out of the country on a telephone call, referring to Zulfi Bukhari's episode of leaving with the prime minister on a foreign visit while facing a NAB inquiry.
Zarrar Khuhuro of DawnNew said the PTI government wanted the courts to take the blame of sending Nawaz Sharif outside Pakistan. "Like i said, the plan was to get pml n to approach the courts so the govt does not have to own it. Of course, the courts may toss it back to the govt and then the merry go round continues."
Photo courtesy: The News