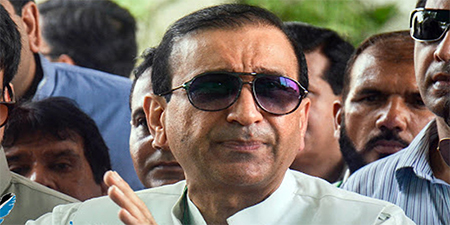 JournalismPakistan.com November 15, 2021


ISLAMABAD—The Islamabad High Court (IHC) Chief Justice Athar Minallah issued contempt of court notices to Jang Group owner Mir Shakil-ur-Rehman, Resident Editor of The News Amir Ghauri, and Ansar Abbasi, the paper's editor investigations.
They have been summoned for a hearing on Tuesday.
The notices were issued following a story by Ansar Abbasi. It quoted the statement of a former Chief Justice of Gilgit Baltistan Rana Shamim. He alleged that the former Chief Justice of Pakistan Saqib Nisar called the sitting IHC judge Amer Farooq. He asked him to ensure that former Prime Minister Nawaz Sharif and his daughter Maryam Nawaz were not given bail before the 2018 General Elections. Contempt notice was also issued to judge Rana Shamim.
An accountability court had on July 6, 2018 — 19 days before the general elections — convicted Nawaz Sharif, Maryam Nawaz, and her husband retired Captain Mohammad Safdar in the Avenfield Apartment reference. It handed them jail terms of ten, seven, and one year, respectively, for owning assets beyond known sources of income.
Apart from Mir Shakil-ur-Rehman, Amir Ghauri, and Ansar Abbasi, the IHC CJ also summoned Attorney General Khalid Javed in his individual capacity.
Though the story in The News did not name the judge allegedly asked to block the bail of the former prime minister and his daughter, the affidavit statement shared on the social media identified him as a sitting judge of the IHC.
The notarized statement of the former CJ of Gilgit Baltistan has been issued from London.
Later, former CJ Nisar denied talking to anybody about the bail of the former prime minister and his daughter. He, however added that Judge Shahmim wanted an extension in his tenure as CJ of the Gilgit Baltistan, which was denied to him. He told Dawn.com that he could only remember speaking to Shamim when he called him to offer condolences about the latter's wife passing away. "At the time, he had voiced grievances regarding his extension," Nisar recalled, adding that Shamim could have "any motive" for making the claims.