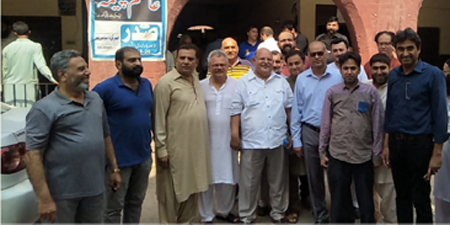 JournalismPakistan.com May 09, 2019


LAHORE – A Special Judge Central of Lahore District Court on Thursday granted bail to four journalists detained by the Federal Investigation Agency following a complaint by Nawa-i-Waqt Media Group boss Rameeza Majid Nizami.
Khawaja Farrukh Saeed, a former chief reporter at Nawa-i-Waqt, Naveed Latif, President of the CBA Union, and Abdul Wajid and Mahboob Naeem walked free after their arrests on Wednesday.
Rameeza had alleged in her complaint to FIA that several persons including Khawaja Farrukh Saeed had circulated her pictures on WhatsApp, Facebook and the website sahafe.com without her permission in a malicious, derogatory and harassing manner. She pointed out that it posed a threat to her safety.
Saeed was at the forefront of a fight for wages and dues of Nawa-i-Waqt employees.
The journalists in Lahore were surprised and angered over the arrest of their colleagues. The Punjab Union of Journalists in an emergent meeting condemned the action.
President PUJ Shahzad Hussain Butt said that having journalists arrested in the holy month for demanding wages and dues, and rendering hundreds others jobless was an inhuman act.
Meanwhile, Khawaja Farrukh Saeed in a video clip thanked all his colleagues and friends from across Pakistan for showing support. He said such unity for a cause would add strength to their efforts. "We will God-willing be successful in our bid to get our rights."