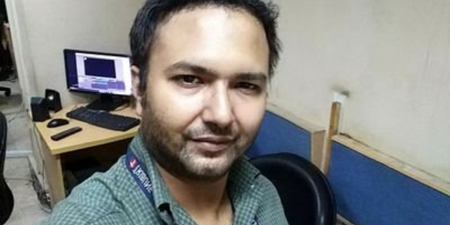 JournalismPakistan.com September 12, 2020


KARACHI–Bilal Farooqi, a senior journalist and news editor at The Express Tribune, was released on Saturday after police arrested him Friday from outside his home over objectionable material he posted on social media against Pakistan Army.
According to The Express Tribune, Bilal was detained concerning an FIR registered against him two days ago and was booked under Section 505 of the Pakistan Penal Code and Section 196 of the Criminal Procedure Code for 'spreading and inciting hatred.'
AIG Ghulam Nabi had confirmed Bilal's arrest by the Defence Police as he was "wanted in FIR No 613/2020 u/s 500/505 PPC of PS Defence, dated 9.9.2020.B."
Barrister Murtaza Wahab, an adviser to Sindh chief minister on law, tweeted past midnight that Bilal had been released and that he was being taken back to his residence by police. However, his friends and colleagues said Bilal was freed on the 'persona bail' of his lawyer Jibran Nasir. Bilal's family also confirmed that he had returned home.
The Express Tribune said that a spokesperson for the Sindh Law Department told the daily newspaper that the FIR would be investigated.