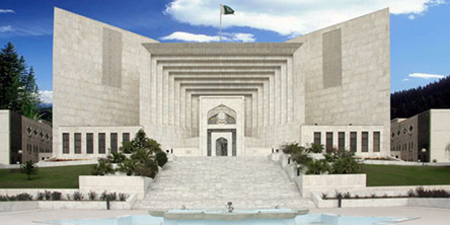 JournalismPakistan.com February 06, 2019


ISLAMABAD - The Supreme Court criticized the role of media and regulator PEMRA during the sit-in by Tehreek-e-Labaik Pakistan (TLP) at Faizabad in November 2017 over the change in the wording of declaration of electoral candidates over the finality of the prophethood.
In its detailed verdict, the two-member SC bench comprising Justice Mushir Alam and Justice Qazi Faez Isa regretted that the "media provided unabated coverage to TLP. TLP's leadership created hatred amongst the people, they abused, threatened and advocated violence; and this was broadcasted by some private television channels."
According to the verdict, "TLP received prime-time free media coverage and publicity, transforming it overnight into a household name. Some talk-show hosts were termed unscrupulous who "incited and provoked citizens. The free publicity made TLP, a little known political party, into a phenomenon."
This publicity helped TLP get a sizable number of votes in the general elections on 25 July 2018.
It said ISI's report "identified Channel 92 as a television channel supporting TLP and stated that its owners had supplied food to the protestors occupying the Faizabad Interchange".
It regretted that PEMRA, however, did not take action under the PEMRA Ordinance against any of its licensees for violating the terms of their licenses. "PEMRA abdicated its statutory duty, a duty which it was legally obliged to fulfil."
On the other hand, it added that television channels and newspapers had complained about interference in their broadcasts and the delivery of their publications, but PEMRA failed to protect the legitimate rights of its licensed broadcasters.
"Broadcasts by DAWN and Geo television channels were stopped/interrupted; complaints stating this were acknowledged by PEMRA. DAWN and Geo were particularly targeted in the cantonment and defence housing authority areas of the country, which too was confirmed by PEMRA. But, sadly, PEMRA looked the other way. It did nothing to protect the interests of its licensees nor took action against those cable operators who were responsible. On 19th March 2018 and on 24th April 2018, information was sought from PEMRA as to who was responsible, but PEMRA professed ignorance."
It also regretted that daily Dawn, "the oldest English language newspaper of the country, which was founded by Quaid-e-Azam Muhammad Ali Jinnah, was targeted the most."
The verdict said overt and covert censorship is unconstitutional and illegal. "Nebulous tactics, such as issuing advice to self-censor, to suppress independent viewpoints, to project prescribed ones, to direct who should be hired or fired by media organizations is also illegal."
Photo: www.supremecourt.gov.pk