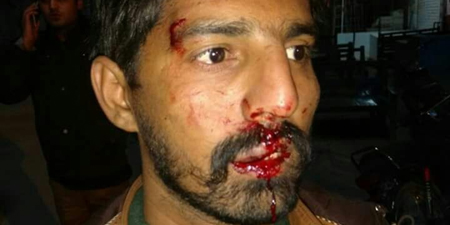 JournalismPakistan.com December 10, 2017


SUKKUR - Journalists in Sukkur staged a sit-in Saturday to protest the beating up of several of their colleagues reportedly by drunken police officials.
Geo News cameraman Usama Talat, Qazafi Shah of Waqt News, photojournalist Salman Ansari, Javed Ghunio, a cameraman with Sindh TV and Sajjad Sanjrani of Daily Koshish were all thrashed and injured.
Javed Memon, President, Sukkur Union of Journalists told JournalismPakistan.com Sunday they had called off their protest after an FIR was registered against two police officials, an owner of a roadside eatery, and two unidentified men.
He said that Usama Talat and Salman Ansari had ordered food on their way home from work at the eatery. Just then, two policemen, reportedly under the influence, demanded they be served first.
This led to an altercation and a chain of events that saw the cops badly beating up the two media workers. There was more violence when some more journalists arrived at the scene to rescue their colleagues.
Memon said the police officials were so drunk they even beat up Bilal Leghari, a Public Relations Officer of the Superintendent of Police (SP).
The Sindh Home Minister has taken notice of the incident and an inquiry committee constituted to probe the matter.