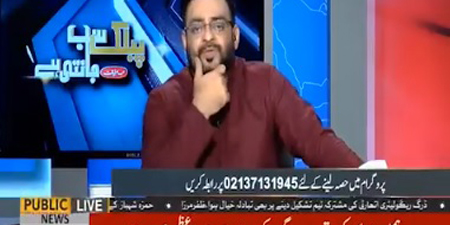 JournalismPakistan.com October 20, 2019


ISLAMABAD — Aamir Liaquat Hussain, who appears on Public News, made a big blunder on air, calling a journalist a Dracula look-alike.
During his show 'Public Sub Janti Hai' Hussain showed a clip of a press talk by politician Maulana Fazlur Rehman who plans to stage a sit-in in Islamabad on October 31. Standing behind him was reporter Raza Abid of Roze TV.
Perhaps unaware that the person was a journalist, the program host Hussain commented that the man's strange expressions were such that they did not bode well for the maulana's sit-in.
The clip showed the reporter's face encircled in red for clarity, as the host remarked: "Watch this closely, he is a strange-looking person. He appears suddenly grinning. He seems like a Dracula-type thing. This is a dangerous situation."
Shaharyar Khan, a former president of the National Press Club, condemned the nasty comment made by Hussain, and called on Public News to apologize.