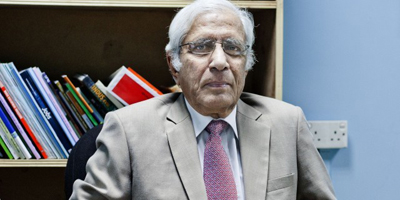 JournalismPakistan.com May 25, 2014
ISLAMABAD: Muhammad Ziauddin, Executive Editor of The Express Tribune has called for revisiting cross media ownership to break monopolies and to make Pakistan Electronic Media Regulatory Authority (PEMRA) an autonomous body.
Appearing as a guest in Waqt Television program Apna Apna Gareban hosted by Matiullah Jan, he said the regulatory authority should ensure television channels hire staff only on regular basis and not on contract.
"There are today 80 channels, they hire and fire and do not pay salaries for months; this is a dangerous trend," said Ziauddin, previously a Resident Editor at Dawn. "It must be ensured that if at all someone is fired, he be given three-month salaries."
Talking about the war between rival channels that turned ugly following the attack on Geo Television presenter Hamid Mir, he said the prevailing situation was of serious concern.
"There has been competition and rivalry between media houses. At one stage there was strong competition between Jang and Nawa-i-Waqt Groups. There were even below the belt attacks. But the situation that we see today has never been seen before. This is not journalism; it's totally unprofessional."
Ziauddin, one of Pakistan's most senior journalists said: "If they had to fight, they should have fought at the market level and not brought religion and accusations of being traitors into all of this."
In light of damage the Jang Group inflicted on their competitors earlier, especially ARY and Express, the rivals were just waiting for an opportunity to attack them, he said.
He agreed with the program host that the current fight was between the owners and not the journalists. However, Ziauddin pointed out the journalists were being used and will continue to be used. "As journalists we cannot do anything. I cannot do anything despite having practiced journalism for 50 years....a divided PFUJ cannot do anything, it has become weak."
Photo courtesy: tribune.com.pk